Adobe Commerce Solution Partner Magento
Creation of Adobe Magento eCommerce sites
yours
Magento 2 e-commerce
Realization, development and customization of your Magento store!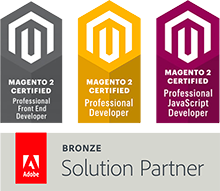 How can you build your e-commerce site at an affordable price ?
Our e-commerce solutions allow you to manage your online store effortlessly, without any programming knowledge and above all at an advantageous price. All our e-commerce using the Open Source Magento platform, which allows you to significantly reduce the construction costs of your sales platform on -line.
Thanks to years of experience in the e-commerce sector, DF Solution is able to offer the solution that best suits your needs, proposing a complete project, based on the analysis of the catalog and the individual product sheets. All our on-line stores are optimized for smooth navigation and especially for search engines. In the realization we include countless indispensable tools for the success of your project; below is a list of features foreseen in the development of your magento 1 or magento 2 e-commerce .
Magento 2 specialized agency
DF Solution is Adobe Commerce Solution Partner Magento
Contact us and receive a quote for your magento ecommerce !
Unlimited Customers
All our eCommerce Magento solutions provide the possibility to enter and manage unlimited customers.
Unlimited Products
We give you the opportunity to extend your e-commerce business through the inclusion of unlimited products.
Unlimited Orders
No order limit! All orders will be manageable directly from the back-end through a user-friendly interface.
Payment Methods
We give the possibility to integrate any type of payment available in Italy and abroad. For example: Bancasella, Nexi, Bank Transfer, Cash on Delivery, PostePay, Paypal, Stripe, etc.
Offers and Coupons
Through a simple back-end interface you will have the possibility to create personalized offers and coupons, also valid for a certain period of time, set by you.
Social Log-in
All your customers will be able to log in and register through the various Social Networks (Facebook, Twitter, Google, Apple ID)
Management and sending of newsletters
You can send all your customers, in full autonomy, newsletters relating to promotions and offers.
SEO Ready
Our Magento Adobe eCommerce , are optimized for search engines, you can further modify any page or product.
Unlimited MultiStore
Through Magento you can create and above all manage with a single control panel, unlimited stores with unlimited templates
Infinite Customizations
For each product you will have the possibility to create infinite configurations, such as: sizes, colors, dimensions, shapes; In a few simple steps.
Product Reviews
All the products of your e-commerce will have the opportunity to be reviewed, through a simple feedback system.
Synchronization with management system
Through the development of integrated solutions of Sync ERP with Magento you will have the possibility to synchronize your management system, whatever it is, with your magento ecommerce .
Apple / Android application
It will be possible to create both a native and PWA iOS / Android application for smartphone and tablet devices that interfaces completely with your magento ecommerce .
Sync with eBay and Amazon
Possibility of synchronizing and selling the products loaded on your eCommerce magento both on eBay and on Amazon with the relative insertion of orders from the various marketplaces.
What does Adobe Magento eCommerce development and implementation offer?
The offer includes a series of fundamental processes for the creation and optimization of a magento e-commerce site .
We consider it of strategic importance to proceed with a preliminary phase of analysis, essential to understand the customer's needs, the objectives and targets to be reached and the structure with which you want to characterize the online sales portal. In this phase, our web designers play a crucial role, together with the company, in defining all the graphic and structural characteristics of e-commerce , customizing and creating, according to the requests, the template and defining all the graphic characteristics of the site, also taking care of the management, for example of the presentation of the products, with a view to maximum usability and ease of use of the site for web users.
At these initial stages, the realization process will turn towards its start-up and activation phase, with all the checks and configurations relating to the product catalog, the warehouse, the management of the price list, up to the care of payment and shipping methods, optimizing them to the customer's needs and finalizing them to the target audience. Finally, the magento project includes a testing and supervision phase aimed at verifying the correct functioning of every aspect inherent to the portal created. At the end of the initial start-up project of the online store, the customer can take advantage of the technical and information support of our staff in the manner described in the offer.
Obviously, any customization of your magento e-commerce will be possible both in the design phase and in itinere.
Do you have a management software with which you want to synchronize your products or your orders with your magento ecommerce ? There is no problem, contact us and tell us which management software you use, we will make sure that both platforms communicate. We have already created synchronization systems with the most common and used management systems such as: TeamSystem, Atelier, Sistemidata InAzienda, MagicStore, Danea, Ecodev, Passepartout and many other proprietary management systems. You can see our integration between ERP and Magento management software at the following link.
Through our customizations, we allow the full integration of your ecommerce with one of the WMS for Magento 2 ecommerce currently more popular.
We love and believe in everything we develop, which is why we create it with passion and above all by believing in every single e-commerce project . What are you waiting for to request a quote , completely free, for the creation of your e-commerce on the magento platform?
Adobe Commerce Solutions
Magento customization and development
It is natural for companies to meet individual needs as they grow – some may need an improvement in their conversion, others are willing to streamline processes and reduce operating costs.
We help our clients identify their clear needs, analyze what benefits custom development can bring, as well as develop and implement custom solutions.
From fashion and luxury goods to consumer electronics and audio equipment – whatever the industry, we analyze our customers' needs and design custom solutions tailored to their business specifications.
Services offered
Magento Personalization Services
Unique design
To meet the needs of your audience and make their navigation through your Magento eCommerce site enjoyable and productive, it is worth considering creating a completely custom layout. We focus on improving the conversion rate of your Magento eCommerce , we strive to personalize the customer experience and bring the individuality of your brand.
Custom feature development
The basic features of Adobe Commerce Magento might work well, but as your business grows and you get to know your audience better, you may come up with new ideas and this is where you need custom features. We help our customers analyze the need, develop and implement these features to improve the customer experience, facilitate management or automate processes.
Custom integrations
From product management and working with warehouses to payment service provider integration and tax management – we can create any custom integration you need. On a regular basis, we help smaller companies optimize Magento eCommerce processes and performance while focusing on ecosystem enrichment when working with larger companies and Enterprise solutions.
Custom extensions / modules
When you know exactly what your business requires, it can be tedious to search for a suitable extension, and find that there is nothing appropriate on the market. We create custom extensions for everything from accounting and customer support to visualization, provide clear documentation and 50 hours of free support included in development.
Backend development
As experts in full-cycle Magento eCommerce development , we are able to help you build your Adobe Commerce eCommerce both backend side Magento that frontend side, with custom layouts. Such an approach allows for deeper personalization and better brand communication while using the powerful Magento backend to process data.
Multi-website development
Whether you need a multilingual store with the same domain or multiple online stores with different domains but shared functionality (such as a shopping cart or extensions / modules), we will help you in any case. When conducting multiple store development, we pay special attention to convenient data processing and improved management experience.
Benefits of Magento Custom Development
There are a good number of reasons to choose custom development for your Magento eCommerce , both in terms of improving performance and preparing for rapid future growth and changes.
Perfect integration of modules
There is no need to compose compromising integration sets – you get exactly what your business requires on your Magento eCommerce . Easily integrate extensions or enterprise resource planning (ERP) modules to increase business efficiency.
We cover your business needs exactly
With three options to choose from ( Community , Enterprise , Cloud ), Adobe Commerce Magento meets both the needs of emerging stores as well as established Enterprise stores. Whether it's basic catalog management or advanced DevOps practices, the platform enables everything you need.
Scalability
Magento Commerce enables high performance and near infinite scalability with its powerful caching, the ability to quickly integrate new modules and easy database maintenance. It's just as easy to increase or decrease your Magento eCommerce and leverage your current market positions.
Advanced customization
Being an open-source platform, Magento provides the possibility of introducing both unlimited pre-developed extensions and the possibility of creating customized ones and modifying them as your company grows and needs the optimization of the integrations set .
Advanced security
There is a number of security features which prevent your Adobe Magento eCommerce from being hacked: SSL certificates, exceptional password management, advanced security scans. In addition, Adobe Commerce regularly introduces patches to meet modern security standards.
Support
As a longtime industry leader, Magento has developed a rich base of tutorials, guides and documentation that makes it easy to support your digital eCommerce . It is of course wise to seek help from an experienced technology partner who can maintain Magento eCommerce for the long term.
Why choose us as Adobe Magento eCommerce development and implementation agency?
We combine advanced technical solutions with a forward-looking approach and an easy collaboration process. DF Solution is an international certified Adobe Commerce Magento partner able to cover everything you may need in terms of creation and development of your Magento eCommerce , optimization of performance and maintenance.
10 years of experience
We have been creating custom solutions for a decade and we know everything about Adobe Commerce Magento .
Solid Customer Portfolio
We have helped over 70 Magento eCommerce projects from multiple sectors and of different sizes.
Certified Team
All Project Managers, backend and frontend developers Magento of our team are certified Adobe Magento .