Adobe Commerce Solution Partner Magento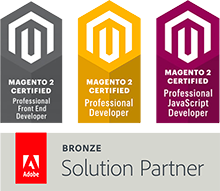 Present on the web & amp; hosting for over 20 years, DF Solution is a system integrator, specialized in the creation of e-commerce on the Adobe Magento platform .
With over 500 digital projects in Italy and Europe, the DF Solution team has been developing high-performance eCommerce Magento sites for over 15 years for a range of B2C and B2B projects.
Our team of Magento eCommerce developers is highly qualified and can create any custom solution for enterprise and non-enterprise projects.
Adobe Commerce is the leading platform for B2C and B2B digital transformation. Over 250,000 brands around the world use it. In over fifteen years, our certified Magento Commerce developers have developed online shops for brands around the world, our experience in implementing Adobe Commerce is remarkable and our developers, solution architects and Adobe Commerce certified consultants will help you implement, design and integrate your new B2C or B2B showcase with field-tested processes that ensure the success of your digital transformation.
We help you implement Adobe Commerce for your B2C or B2B business, including single websites, or multiple country or brand specific websites.
As a Certified Adobe Solution Partner , we offer a full satisfaction guarantee for each project, which ensures 100% customer satisfaction.